You want to self-host apps for fun or privacy - but not the 'running servers in your garage' type of self-hosted. In 2022 we live in a Golden Era of low-cost VPCs and hosting providers, and there has never been a better time for people looking to offload the frustrating parts of self-hosting, while still operating on a shoe-string budget (or free!).
So you want to host your own NocoDB Airtable alternative ? Love it! Let's get you rolling. This guide will set you up on Fly.io with a SQLite backend. NocoDB has so many uses cases, but one feature I want to call out is how handy it is that it comes with a built-in API for items right out of the gate. Can anyone say speedy MVPs?
😢 SQLite??? Is that even production ready??

You'd be surprised how much traffic you can support with SQLite - NomadList & RemoteOK both run on it and pull in significant revenue ($millions) and handle tons of traffic. Read more in Consider SQLite and how Michael Lynch uses SQLite + Litestream to never worry about backups .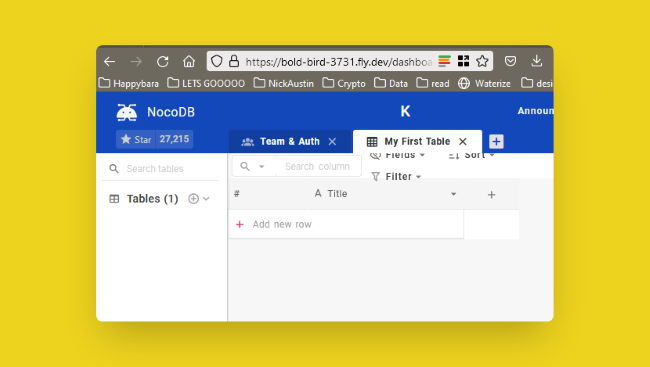 Now let's get your server running & get you back to whatever more important things you're avoiding!
🛠️ Fly.io account setup
We need to take a quick detour to ensure you have an account with Fly.io .
Install the flyctl CLI tool.

Authenticate with flyctl auth signup (for newbies), or flyctl auth login (existing accounts).

⚠️ You will have to add credit card information to the account, so if that's enough to keep you from using a free service 🤷- keep your usage to the free tier and you'll have no issues.
🤸Deploying NocoDB to Fly.io
With account setup out of the way, we will have a running instance of NocoDB on the interwebs in just 4 quick CLI commands. For reference, the Docker instructions for NocoDB .
🌴NocoDB live on Fly.io
With a few commands and almost no thought required, I have a self-hosted Airtable alternative NocoDB live and ready for use. The sky is the limit from here.
Other quick options
Fly is not the only simple hosting provider out there - there's a gluttony of choice, and you as the customer are winning! A few other options include: