A simple recipe, only 3 required ingredients and only takes a few minutes to make, just as long as it takes for your chosen chorizo to finish cooking. Usually 5-10 minutes.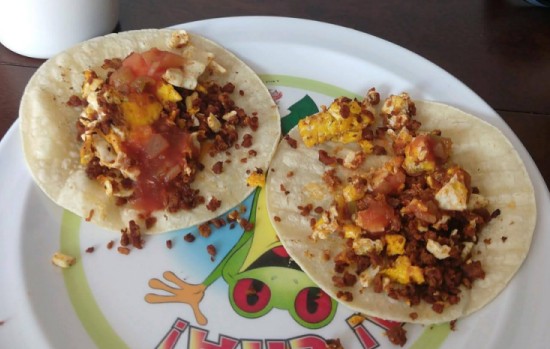 Required 🔗︎
Chorizo (Trader Joe's Soy for the vegetarians out there)
Eggs
Tortillas
Make it 🔗︎
Very few steps for this bad boy, and no need to measure anything. If you have more than expected of one ingredient, put it in the fridge and use it with another recipe.
Cook your chorizo in a pan.
Once it's close to finished, get a few eggs scrambling (can use same pan if there's room).
(Optional, for the best taste) heat up your tortillas, especially if they're corn so they hold together better.
You're all set, put everything together, and if you want even better taste add some of the items from the Extra Credit, they require no cook time to add to the recipe.
Enjoy your 10 minute tacos!